In an effort to facilitate information we will be posting City Council Meeting information on this page.
Please get in touch with the HOA Board and join our community in speaking up on matters that concern us!
City Council Meetings: Oxnard Information
Speaker Cards at City Council Meetings
Public Comment:
Public comments shall be received at several times during each meeting for particular portions of the agenda as specified on the agendas.
Comments on agendized items are not heard until the particular item is called. Unless otherwise approved by City Council action, public comments relating to the subject matter of discretionary public hearings or public hearings required by law, shall be presented only at the time of the conduct of the hearing. Individuals desiring to speak are to address the Council from the speaker podium.
Speaker cards should be filled out and given to the City Clerk prior to public comment, although persons who wish to speak are not required to provide their names or addresses. A block of thirty (30) minutes time is set aside at the beginning of a regular
meeting to receive general public comment about issues not on the agenda. Public comments not heard 13 during this thirty minute period will be heard just prior to adjournment.
Speaker cards will not be accepted after the beginning of the general public comment period in order to allow for fair
allocation of time among the known speakers.
If the time required to complete general public comments exceeds 30 minutes, any public comments thereafter shall occur immediately prior to the adjournment of the meeting. If during public comment, a person expresses a concern regarding City Council staff or service, City Council may refer the nature of the concern to staff for investigation, resolution or a report.
Comments should focus on a specific matter within the Council's jurisdiction. Members of the public are encouraged to present written comments, preferably in advance of the meeting, as a way to fully communicate their thoughts on agendized or non-agendized items. When written materials are presented, they should be submitted to the City Clerk for distribution and record keeping ahead of time.
Videos, PowerPoint or similar presentations during public comment ordinarily are not permitted. Prior notice and coordination with the City Clerk is strongly encouraged and the Mayor reserves the privilege to limit such requests as necessary for the effective conduct of the meeting.
Public comment on regular business items normally follows staff's presentation of the staff report, clarifying questions from Council members and applicant comments as necessary and appropriate.
Speaker cards should be filled out and given to the City Clerk prior to public comment.
Unless additional time is granted by the presiding officer, each person shall limit public comments to three minutes on any agenda item at a meeting with a cumulative total of ten minutes for all agenda items at such meeting, provided that such ten minute limit shall be voluntary. The presiding officer may grant a representative of a large speaker group additional time (up to ten minutes) to speak for the group on any agenda item.
A person wishing to address City Council shall first be recognized by the presiding officer.
Each person shall address all remarks to City Council as a body, not to any member thereof and not to staff. No person, other than a Council member and the person having the floor, shall be permitted to enter into any discussion without recognition by the presiding officer.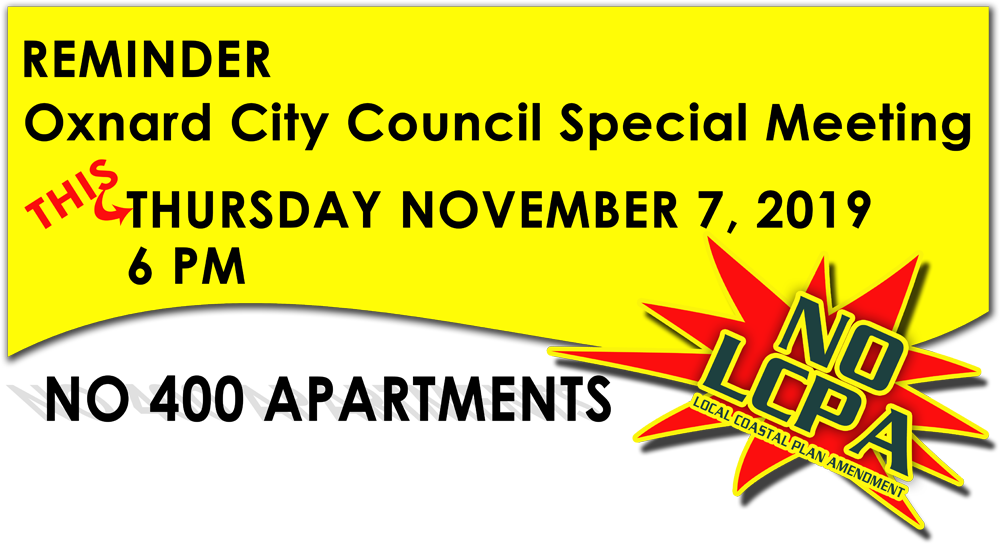 YOUR SUPPORT IS SO IMPORTANT
Write to City Council – ask them to SAY NO on Nov 7th
cityclerk@oxnard.org
Contact everyone you know and have them do the same!
BE THERE NOV 7th
6 PM in City Council Chambers
COME EARLY!
Attend the meeting and fill out a comment card
Bring a friend – a neighbor – your family!
NO to 400 Apartments! NO to Density! NO to Oxnard losing jurisdiction!
NO to a Local Coastal Plan Amendment!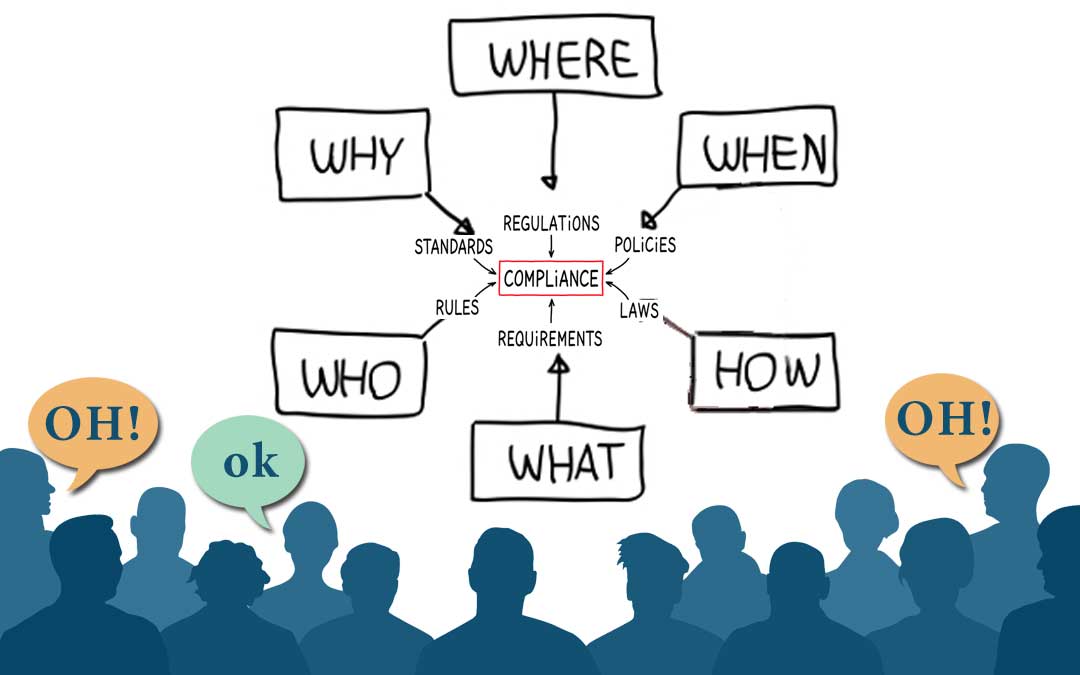 North Shore Development Meeting TUESDAY SEPT 24 2019 at 6pm
The developer of North Shore at Mandalay Bay presented along with City Planners to discuss our concerns about the approval of such an old permitted project circa 1999 on the former oil field dump. It is located at 5th Street and Harbor Blvd.
It was made clear that the item for approval was not a permit but a plot map.
The developer took the time to explain the history of the mitigation and had experts on site to give technical details.
The INCO MAC group still had questions but it was agreed that the LA Water Quality Control Board was the agency to approach with those concerns.
THANK YOU CITY OF OXNARD & THANKS to the Developers!
UPDATE: 9/23/2019 1  pm
There was an agenda Item for Public Works and Transportation Committee Meeting, Tuesday September 24th
The ITEM  has been pulled due to requests! See further down on the page for that – we will post more when we know more!
Tell the City to work out FUNDING before approval!
WE TOLD THEM – THEY LISTENED!
The following item is being removed from tomorrows agenda!
PUBLIC WORKS AND TRANSPORTATION COMMITTEE
Council Chambers, 305 West Third Street
Tuesday September 24, 2019 Regular Meeting – 11:00 AM to 12:15 PM

Agenda Item D REPORTS   (see full agenda)
D.REPORTS
1.Public Works Department
SUBJECT: Approval of Second Amendment to Aquatic Bioassay Laboratories, Inc. Professional Services Agreement A-8093. (5/5/5)RECOMMENDATION: That the Public Works and Transportation Committee recommend that the City Council approve and authorize the Mayor to execute a Second Amendment to Professional Services Agreement A-8093, with Aquatic Bioassay Laboratories, Inc. (Consultant), that:
Adds $400,000 for testing requirements to the wastewater treatment plant ocean monitoring program in order to comply with the National Pollutant Discharge Elimination System (NPDES) permit;
Adds $173,000 for the ongoing water quality monitoring and support for the Special Districts Channel Islands Harbor (Special Districts) on an as-needed basis; and 3. Increases the Agreement from $759,933 to a new total of $1,332,933.Contact: Rosemarie Gaglione, (805) 385-8055
On May 7th 2019 City Council approved and authorized the Mayor to execute:
The Third Amendment to Agreement No. A-7583 with Weck Laboratories, Inc. to:
1. Add the Special Districts Division to the Agreement's Scope of Services; and 2. Increase the value of the Agreement from $900,000 to $960,000 for ongoing services relating to the Channel Islands Harbor water quality issue.

The methodology for funding was based on a simplistic GIS calculation of area the majority (55%) of the funding was taken from MANDALAY Waterways 1.
We do not believe this to be fair considering development agreements for Seabridge and Westport, the boat density in those developments and the access for those developments through the main channel and public benefit of the waterways in general.
Our waterways are PUBLIC ACCESS to multiple developments, multiple PUBLIC Marinas and are used by businesses and visitors to the entire Channel Islands Harbor.

With the pending  5th Street Development – we are still carrying the burden, the burden is increasing taking away funds from the SEAWALLS –  again!
55% of NEW AMOUNT: $173,000  is $95,150
The prescribed allocation  for the cost of water quality testing and mitigation has burdened Mandalay Bay with a 55% share of costs. The percentage shares are defined by overall channel area on the GIS map which includes the main channel which is in fact, a public highway. No one can access any place in the harbor without having access to the main channel. This division of area should not include the main channel as solely Mandalay Bay's responsibility and should be removed from Mandalay Bay's percentage of allocation
Water quality is an issue affecting the entire harbor and community. Neighboring residents cannot be expected to bear the burden of costs for a much larger issue, which was not created by these residents.
 WE REQUEST THE CITY
Make responsible and equitable decisions on this and related issues.
There are many who should accept fiscal responsibility and share in this burden:
The City of Oxnard
The County of Ventura
The State of California
Public Marinas at Seabridge and White Sails ( White Sails is a part of Westport)
CenterPoint
NRG
The North Shore residential project at Wooley and Fifth Street
Homeless funds from the  neighboring dunes homeless encampments
The local farm community
An equitable solution for cost allocation must be mandated before any more funds can be taken from neighboring homeowners.
Oxnard City Council Members and email addresses
Oxnard District-Based Elections (map and Information)
On February 27, 2018, the City Council held the final public hearing regarding districting and approved by a 4 to 1 vote the first reading of an ordinance implementing its decision regarding the district map and the sequencing of the elections in each of the districts. The City Council adopted this ordinance at its meeting on March 6, 2018. The ordinance became effective immediately.
To View the District Map: CLICK HERE
Please see the City of Oxnard Frequently Asked Questions page for details about district elections.
Video: City of Oxnard District Based Elections