In an effort to facilitate information we will be posting City Council Meeting information on this page.
Please get in touch with the HOA Board and join our community in speaking up on matters that concern us!
City Council Meetings: Oxnard Information
Speaker Cards at City Council Meetings
Public Comment:
Public comments shall be received at several times during each meeting for particular portions of the agenda as specified on the agendas.
Comments on agendized items are not heard until the particular item is called. Unless otherwise approved by City Council action, public comments relating to the subject matter of discretionary public hearings or public hearings required by law, shall be presented only at the time of the conduct of the hearing. Individuals desiring to speak are to address the Council from the speaker podium.
Speaker cards should be filled out and given to the City Clerk prior to public comment, although persons who wish to speak are not required to provide their names or addresses. A block of thirty (30) minutes time is set aside at the beginning of a regular
meeting to receive general public comment about issues not on the agenda. Public comments not heard 13 during this thirty minute period will be heard just prior to adjournment.
Speaker cards will not be accepted after the beginning of the general public comment period in order to allow for fair
allocation of time among the known speakers.
If the time required to complete general public comments exceeds 30 minutes, any public comments thereafter shall occur immediately prior to the adjournment of the meeting. If during public comment, a person expresses a concern regarding City Council staff or service, City Council may refer the nature of the concern to staff for investigation, resolution or a report.
Comments should focus on a specific matter within the Council's jurisdiction. Members of the public are encouraged to present written comments, preferably in advance of the meeting, as a way to fully communicate their thoughts on agendized or non-agendized items. When written materials are presented, they should be submitted to the City Clerk for distribution and record keeping ahead of time.
Videos, PowerPoint or similar presentations during public comment ordinarily are not permitted. Prior notice and coordination with the City Clerk is strongly encouraged and the Mayor reserves the privilege to limit such requests as necessary for the effective conduct of the meeting.
Public comment on regular business items normally follows staff's presentation of the staff report, clarifying questions from Council members and applicant comments as necessary and appropriate.
Speaker cards should be filled out and given to the City Clerk prior to public comment.
Unless additional time is granted by the presiding officer, each person shall limit public comments to three minutes on any agenda item at a meeting with a cumulative total of ten minutes for all agenda items at such meeting, provided that such ten minute limit shall be voluntary. The presiding officer may grant a representative of a large speaker group additional time (up to ten minutes) to speak for the group on any agenda item.
A person wishing to address City Council shall first be recognized by the presiding officer.
Each person shall address all remarks to City Council as a body, not to any member thereof and not to staff. No person, other than a Council member and the person having the floor, shall be permitted to enter into any discussion without recognition by the presiding officer.
AGENDA
OXNARD CITY COUNCIL
Special Meeting: March 25, 2019 – 6:00 PM
Oxnard Performing Arts & Convention Center
800 Hobson Way, Oxnard (Oxnard Room)
A. ROLL CALL / POSTING OF AGENDA
B. OPENING CEREMONIES
Pledge of allegiance to the flag of the United States.
C. PUBLIC COMMENTS
At a special meeting, a person may address the legislative body only on matters appearing on the agenda. The presiding officer shall limit public comments to three minutes. Unless otherwise approved by the City Council, persons wishing to speak on items on the agenda should do so during public comments.
D. STUDY SESSION
Community Development Department
1. SUBJECT: Short-Term Vacation Rental (STR) Report and Recommended Best Practice
Regulations. (20/25/60)
RECOMMENDATION: Receive a Short Term Rentals (STRs) report including: regulatory framework establishing restrictions on STRs and recommended best practices; provide guidance on these recommended provisions; and direct staff to prepare a Short Term Rentals Ordinance for consideration and recommendation by the Planning Commission.
The City Council Housing and Economic Development Committee considered policy questions pertaining to STRs at its February 26, 2019 meeting and provided the following comments:
(1) consider allowing STRs only in designated geographic areas;
(2) consider the California Coastal Commission's position on STRs; and
(3) staff should prepare recommendations based on best practices for the City Council to consider.
Legislative Body: CC Contact: Jeffrey Lambert Phone: (805) 385-7882
SIGN UP FOR UPDATES

Homeowners have requested more frequent updates via email.
Please join the list!
A special meeting of the City Council to be held at the Performing Arts & Convention Center (800 Hobson Way) on Monday March 25 beginning at 6 PM.
Since March 2016, the City has been actively engaging the public, the Planning Commission, and most recently the Housing and Economic Development Committee in order to devise a framework for an STR Ordinance. This engagement began with a survey of Oxnard residents, a community workshop (Aug. 2016), a Planning Commission Study Session (Nov. 2016), and a public hearing before the Planning Commission (June 2017). These activities are summarized in the Staff Report for the June 1, 2017 hearing (see Attachment C). Additionally, staff researched other jurisdictions ordinances in an effort to develop some best practice regulations. The results of this research are included in Attachment D.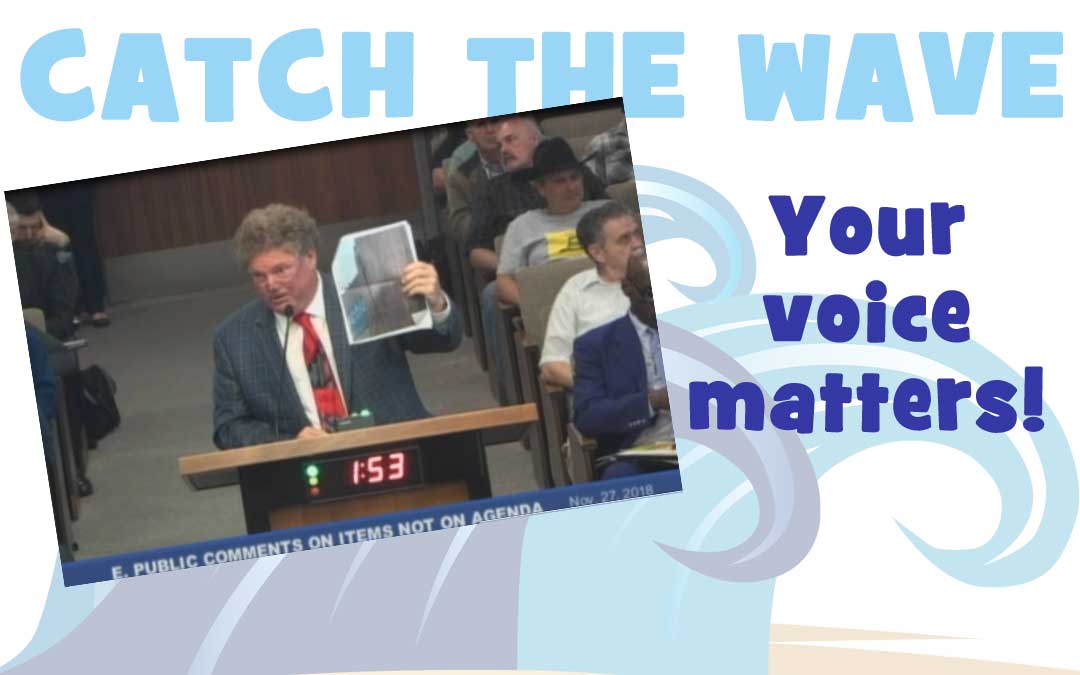 Thank you to homeowner Thomas Peterson for speaking up and going the extra mile to be heard!
The regular City Council meeting have an agenda item for people to speak on "Items Not on the Agenda"
Local resident raises concerns about Ischia Drive pilaster
This is a way to be heard by all of your representatives plus staff!

A Mandalay homeowner had noticed deepening cracks on a pilaster at his homes location. When he contacted the City he was told that they inspected and say no structural damage…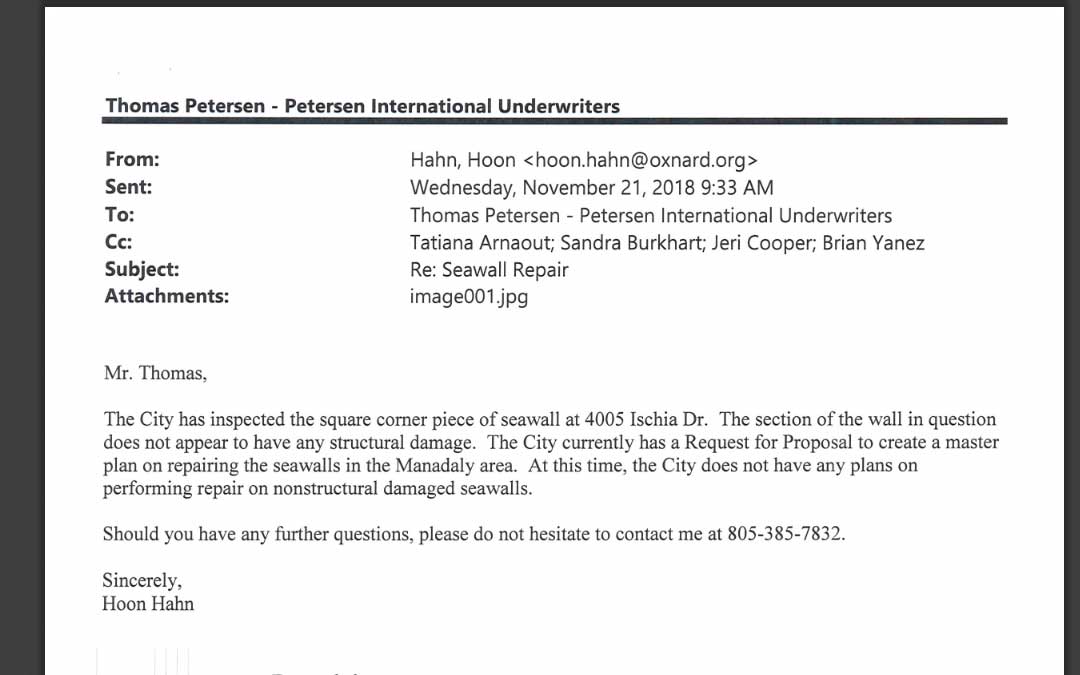 Tom forwarded the email to the Seawall Team.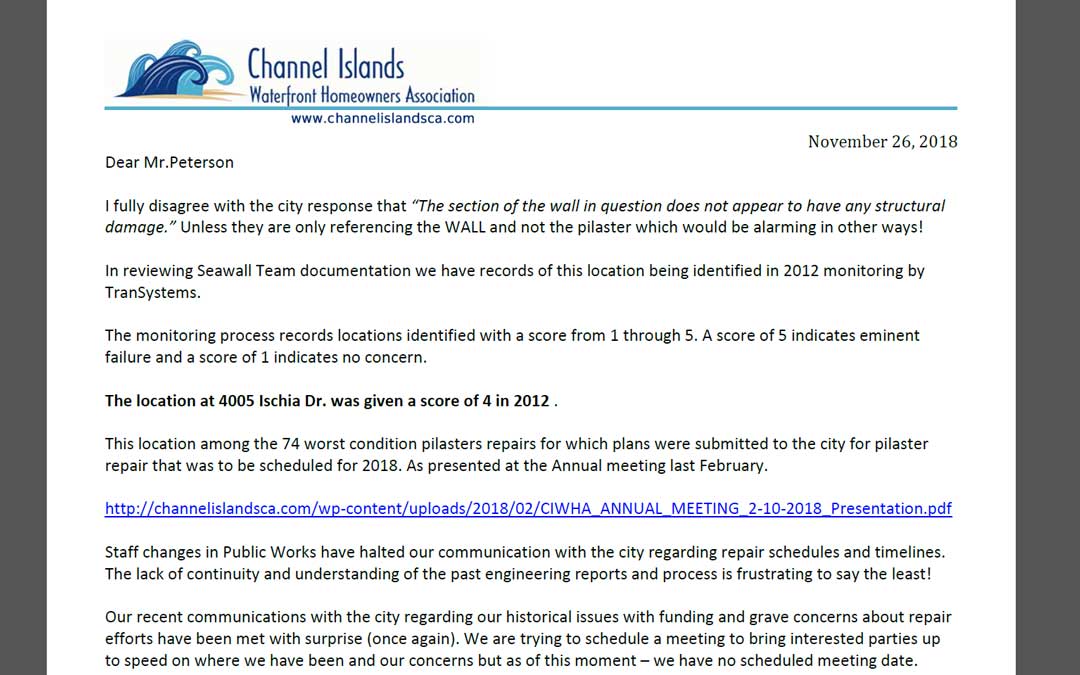 Imagine his dismay
But rather than be discouraged Tom put everything together and sent a cover letter, pictures and history to the Mayor and every member on City Council informing them that his intention was to speak on items NOT on the agenda to address this – but given the time limitation he wanted them to have all of this.
He received a response from Bert Perello: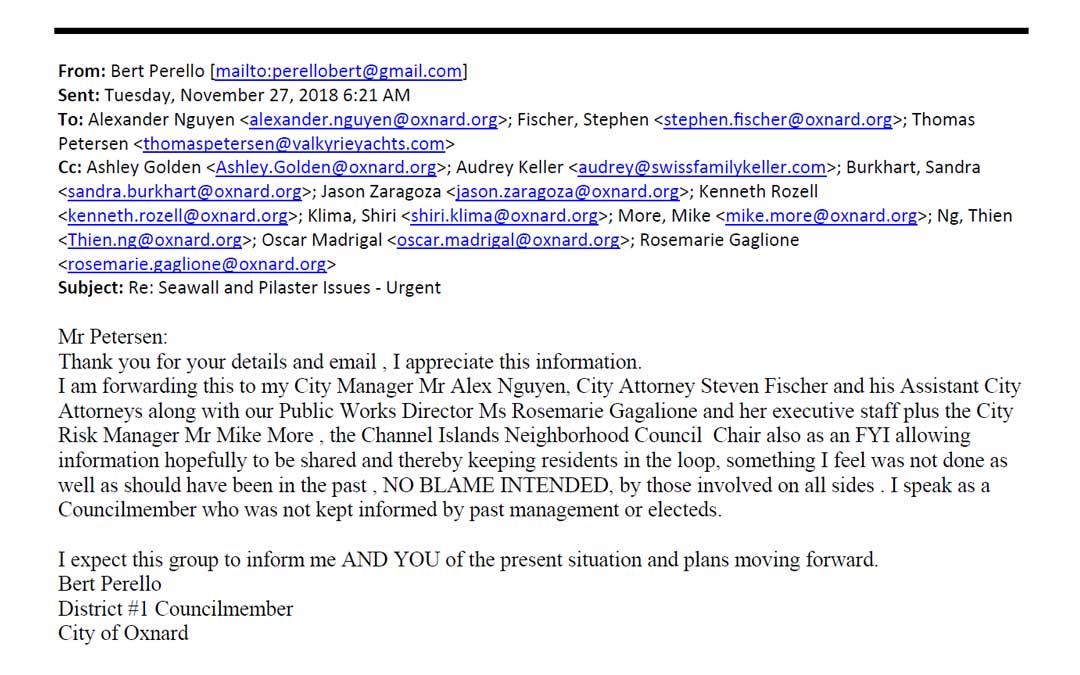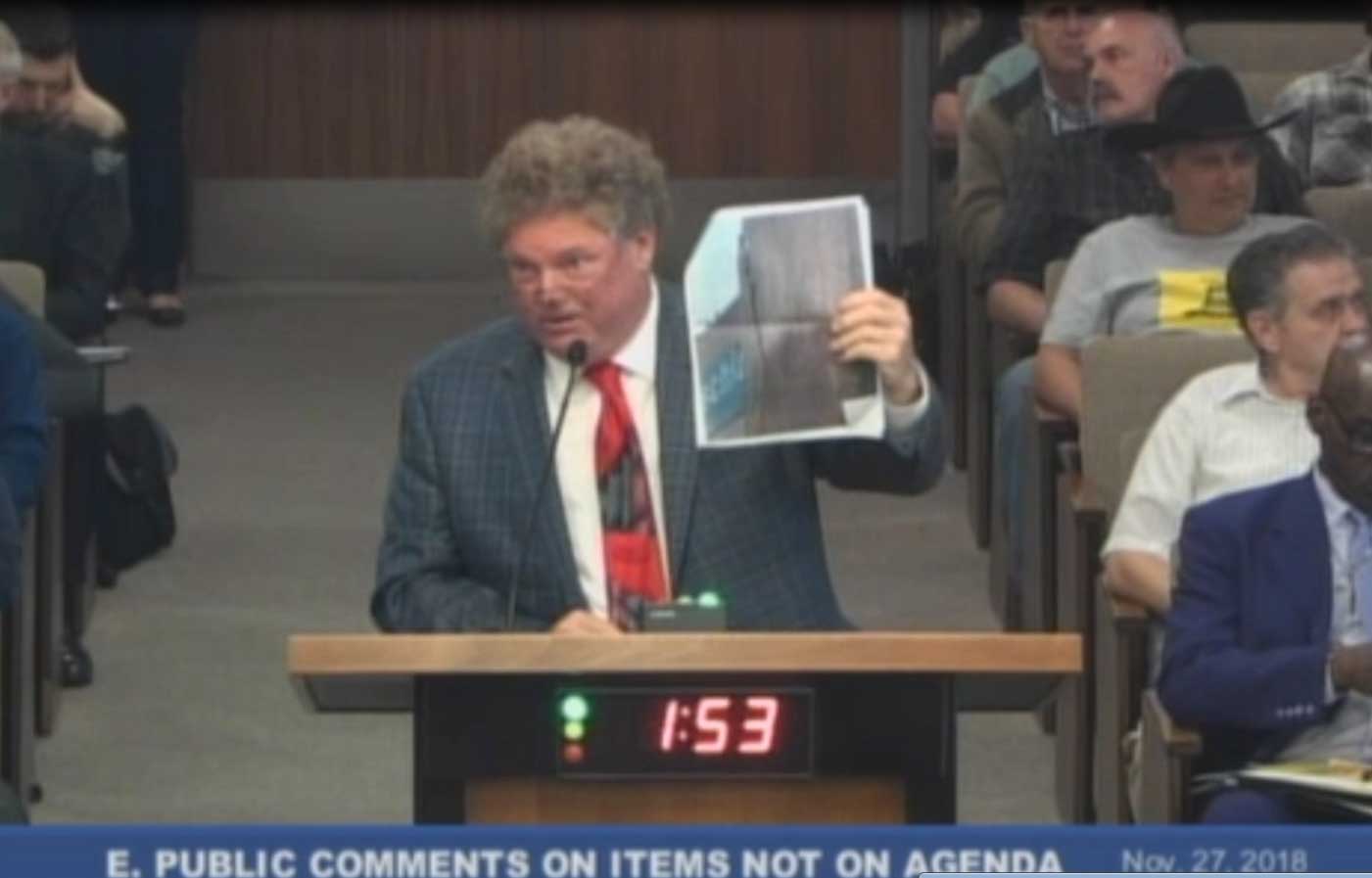 His voice was heard and his document recorded
It seems that simply making anyone in the City aware of an issue does not mean that issue will be solved. With the turnover and upheaval it is difficult to know exactly who to contact at any given time. Tom took the time to attend the City Council meeting tonight and very succinctly presented his information and a plea to the City to take seawall repairs that have been on hold seriously before they become much more costly disasters.
On behalf of all the homeowners – THANKS TOM!
We will post updates to this issue!
Being heard does not mean our problems are over – we need your support to keep our concerns top of mind with our City Leaders and Staff. 
PLEASE HELP US MAKE 2019 THE YEAR WE MAKE WAVES!
If you would like to be more involved in supporting communications with the city please attend the Homeowners Annual Meeting in February!!
This will not be your average re-run annual meeting!
The closed session will have very important items to vote on.
BE A PART OF THE SOLUTION!
SAVE THE DATE!

2018 Annual Meeting
DATE: February 9, 2019 Time: 8 am – Noon
Where: Embassy Suites
2101 Mandalay Beach Rd
Oxnard, CA 93035
Oxnard City Council Members and email addresses
Oxnard District-Based Elections (map and Information)
On February 27, 2018, the City Council held the final public hearing regarding districting and approved by a 4 to 1 vote the first reading of an ordinance implementing its decision regarding the district map and the sequencing of the elections in each of the districts. The City Council adopted this ordinance at its meeting on March 6, 2018. The ordinance became effective immediately.
To View the District Map: CLICK HERE
Please see the City of Oxnard Frequently Asked Questions page for details about district elections.
Video: City of Oxnard District Based Elections