The recent crimes and concerns in our area are not going unheard, however resources are limited.
We can do more if we all come together!
May we suggest you introduce yourselves to your neighbors next door, across the street and across the channel.
Share contact information and pledge to look out for each other.
If you should see a garage door open at unexpected times, or see any suspicious activity please notify your neighbors.
Make arrangements to pick up each other's packages when you're away
Contact Oxnard Police Department
If you should see any suspicious activity or fall victim to any crime, please report  the incident to the  Oxnard Police Department. If you were able to secure security video footage, please also share the footage with the Oxnard Police Dept.  
For emergencies please contact 911
For non-emergencies you may contact the Oxnard PD @ 805-385-7740
Just a Reminder
Please keep doors and windows locked
Please keep cars locked
Please don't leave valuables in your car
Please don't leave garage doors open
And
If You See Something, Say Something !
Oxnard Police Department has a Website with
Resources for Your Safety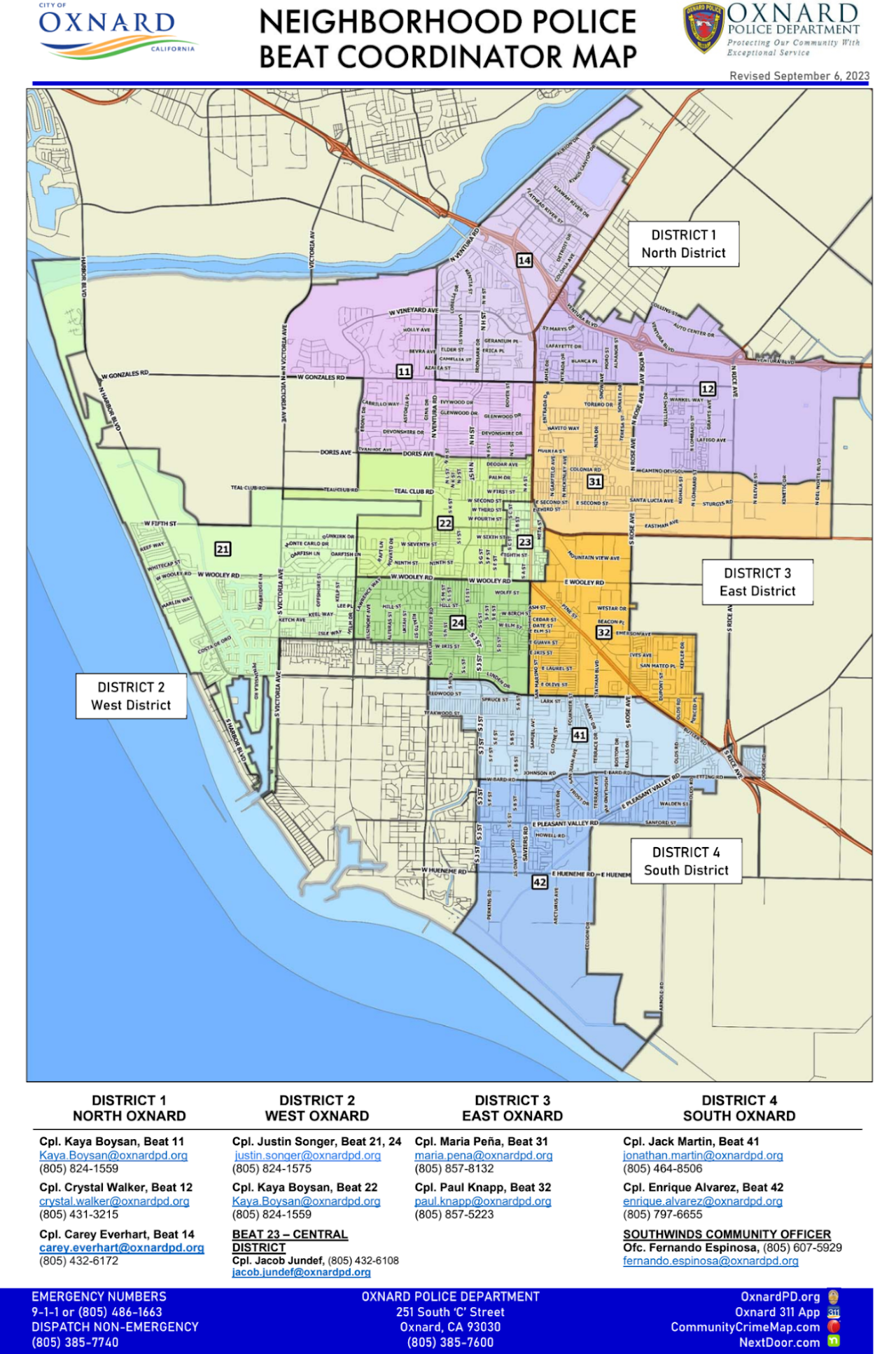 Oxnard PD
Community Crime Map can be found at  https://communitycrimemap.com/
Click for instructions on using Community Crime Map [PDF]
LexisNexis® Community Crime Map connects law enforcement with the community to reduce crime and improve public safety. Crime mapping helps the public get a better idea of the crime activity in their area so they can make more informed decisions about how to stay safe. Community Crime Map goes beyond crime mapping by automatically alerting the public about recent crime activity and by improving communication between the public and law enforcement through anonymous tips. 

The markers representing incident locations on the map indicate approximate locations, typically rounded to the nearest block. The data displayed on this map is based on preliminary information, and is subject to change at any time. This data is intended as general crime information, and is produced for the purpose of public awareness. No warranty or guarantee is made or implied regarding the content, geographic accuracy, timeliness, or completeness of the data.
Register your surveillance system with the Oxnard Police Department. Oxnard Police Department personnel will contact you to process the registration. [Click Here to Register]