Seawall Update
A small group of volunteers have come together from members of the Channel Islands Waterfront Homeowners Association, to make an effort to facilitate communications regarding the Seawall repairs.
We know many people doubt that any actual action will take place prior to a catastrophe but there is a schedule for the work to begin on Kingsbridge way.
The process time line of what has taken place and what is expected to take place on the project is included in this document.
January 3rd there should be a notice published in the Ventura County Star announcing the First week of the bid period for the contractors to proceed on the first phase of Seawall repair encompassing the East side of Kingsbridge Way in the channel between Jamestown way and Kingsbridge Way ending at Costa De Oro on the North end. The seawall (doomed to fail if not repaired) is the east facing wall.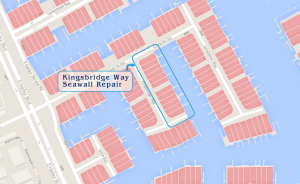 January 6th Plans and specs will be made available for contract procurement Following the second week of the Bid Period there will be a Jan 15th Pre Bid Conference (City Council Chambers), followed by two more weeks of bids.
February 5th 2pm in Council Chambers Bid Opening. Bid Tab/Verification (Contract procurement)
February 6th Bid Review (Purchasing Agent)
February 10th Contract Preparation and Approval
February 13th Contract to Contractor
March 3rd Contract Procurement from Contractor – Signature Distributed (Project Manager/ City Attorney/CCRC)
March 11th APPROVAL BY CITY COUNCIL
4/05/14 Must be awarded by this date to save Bid or have Written Approval to Extend
Impact Estimates
So far what we know with some degree of certainty is that the actual work and impact on residents SHOULD begin following the Approval on 3/11/14. We hope that last line regarding the potential of "Award By date or Written Approval to Extend" does not come into play!
It is understood that all docks on the west side of the channel (the homes on the East side of Kingsbridge Way) will be removed for a month and that traffic to this leg of the channel may be halted for short periods to enable equipment and work crews access. The Seawall Volunteers are working to provide assistance for accommodating boats at other locations during the repairs. If you live on the East side of Kingsbridge Way Be
Based on this timeline we hope to have more information available at the Channel Islands Waterfront Homeowners Association Annual Meeting: Sat Feb 15th, 2014
If you live in the area impacted and would like assistance in relocating a boat please download this PDF: Click here: Seawall_Impact_Signup
For a pdf of this page plus the timetable: Click here for HOA_SEAWALL_UPDATE and timetable
January 3rd – NOTICE published: Click Here