WELCOME to The Channel Islands Waterfront Homeowners Association
Slope Protection & Foundation Repair Notice to Residents with Wavier
If you have received a notice from the City asking you to sign a waiver PLEASE RESPOND PROMPTLY! The Slope Protection & Foundation Repair is very important to protect the integrity of the seawalls!
Updated March 24, 2014
NOTICE TO HOMEOWNERS
ABOUT US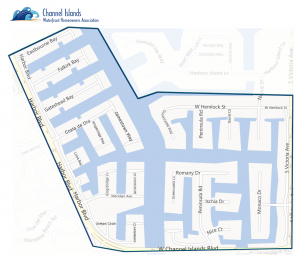 The Channel Islands Waterfront Homeowners Association is a volunteer organization composed of homeowners who reside within the Mandalay Bay portion of the Channel Islands harbor. There are approximately 700 single family homes within the Mandalay Bay. The Associations primary mission is to serve as a liaison between the local government agencies and the homeowners. Over the years the Association has brought homeowners together and has been responsible for efforts to beautify, enhance, and protect the area. Currently, our primary focus has been to work with both the City of Oxnard and the County of Ventura to ensure the maintenance of our seawalls and the quality of the water within our harbor.
Click here for more information about us!
Community communications is an essential aspect of the role of the HOA Board. We are utilizing www.nextdoor.com as this service gives our members a private, online network called Nextdoor Mandalay Bay by which information unique to our community can be shared. On our Nextdoor site, neighbors can share community events, recommendations, items for sale/free, crime/safety concerns, ideas about how to make our neighborhood better, and more. It is also a vehicle by which the HOA Board can facilitate open dialogue between neighbors. It is a free service and we encourage you to try it out.
---
ATTENTION:
A new proposal for the re-do of Fisherman's Wharf is in the works for early fall. Once again, residents and other stake holders have not been included in the planning. We need to be part of the planning to avoid the mistakes of the last proposal which was too dense for our area.
Channel Islands Neighborhood Council has reactivated to be a voice for the neighborhood.
Please join us to share ideas and ensure the neighborhood has representation and input into whatever development is proposed.
For more information: Lauraine sparerib@roadrunner.com
985-6472